I'll first start by saying, I'm not a professional boat builder. This is in fact, only the second boat I've built. Like the first, I set out to make the most incredible layout boat that could ever be built. I'm close, but there is always room for improvement. I welcome constructive criticism and feedback.
When designing the vessel, I had several goals I wanted to accomplish.
1. Durability
We hunt ice here. We hunt rivers with logs, boulders, and other nefarious obstacles. We hunt flooded timber lakes where the biggest threat lies just beneath the water. Thin remnants of trees that could high center a boat skewering it like a pig.

2. Payload
We haul a lot of gear here. Some days we put out over 12 dozen duck decoys just to shoot 4 mallards each. Other days we pack in every goose decoy we can get, and even tow another boat behind us with even more gear. On top of all that, you have a hot-wing-eating-beer-drinkin-bastard like me at 6'1" 240lbs.

3. Low Profile
Most of the marshes here are moist soil with thick but short grass to hide in. However, there is some standing corn to be found for late season hunts. The boat needed to be low profile enough to hide in the short grass.

4. Performance
I wanted to make something that balanced weight, durability, and payload using materials that would provide unmatched strength while minimizing weight.

5. Boat Ramp Envy
If I'm going to all of this trouble and expense, why not create something that on sight inspires in every other guy at the ramp, the hate and envy of a runner up at a beauty pageant? I'm talking about a giant slice of envy pie washed down with a tall glass of extra strength haterade.
Vessel Specs:
Overall length: 13' 10"
Overall height: 16"
Transom height: 15"
Construction Type: Stitch-N-Glue Fiberglass
Layup Schedule (Bottom-inside/out): 6oz plain weave > 5oz kevlar > 19oz triaxial
Layup Schedule (Top Half-inside/out): 6oz plain weave > 12oz biaxial > 6oz plain weave
Core Material: Plascore PP-Honeycomb (weighs .4 oz per sqft)
Transom Material: Marine Grade Plywood
Nose & Cockpit border: Cedar
Bottom Coating: Gator Glide G4
Given I'm a computer geek by trade, it's only fitting that I started at the computer. Using a 3D CAD program, I spent months (literally) tweaking and refining my design. Gotta have something to do in February and March...
Another 3D View

The real advantage of the program is that it can loft out the pieces for me to use as a construction pattern.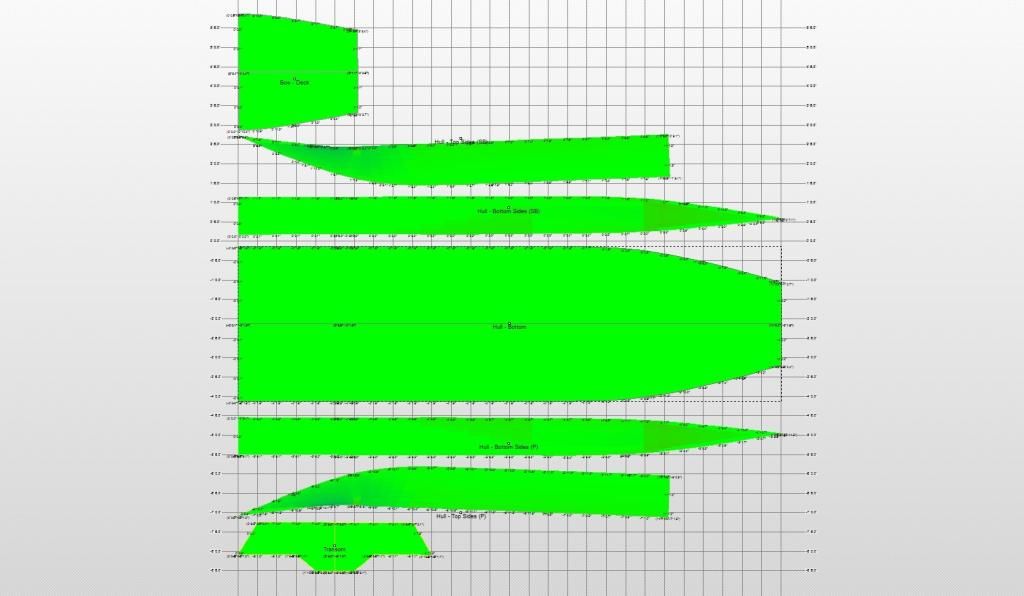 Once I have the lofted plans, I can output them on a plotter and lay it down on the material like a sewing pattern and start cutting.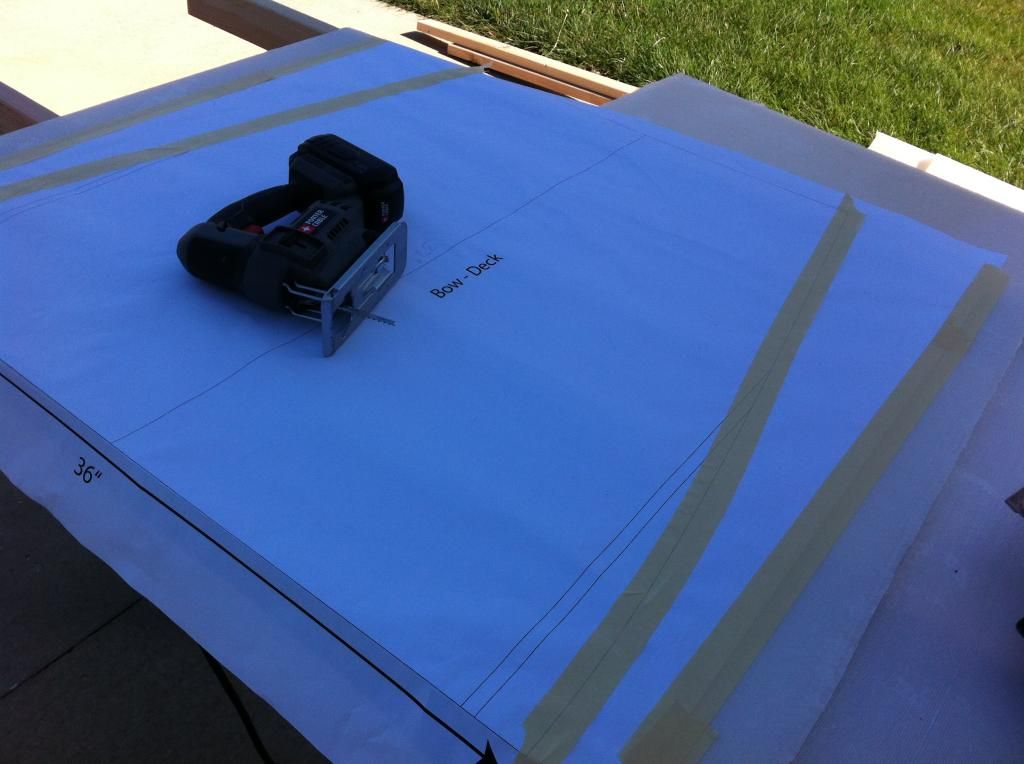 With all of the pieces cut out, I could then "stitch" them together. In this image I used some cut dowel rod to form a spacer to keep the interior edges aligned.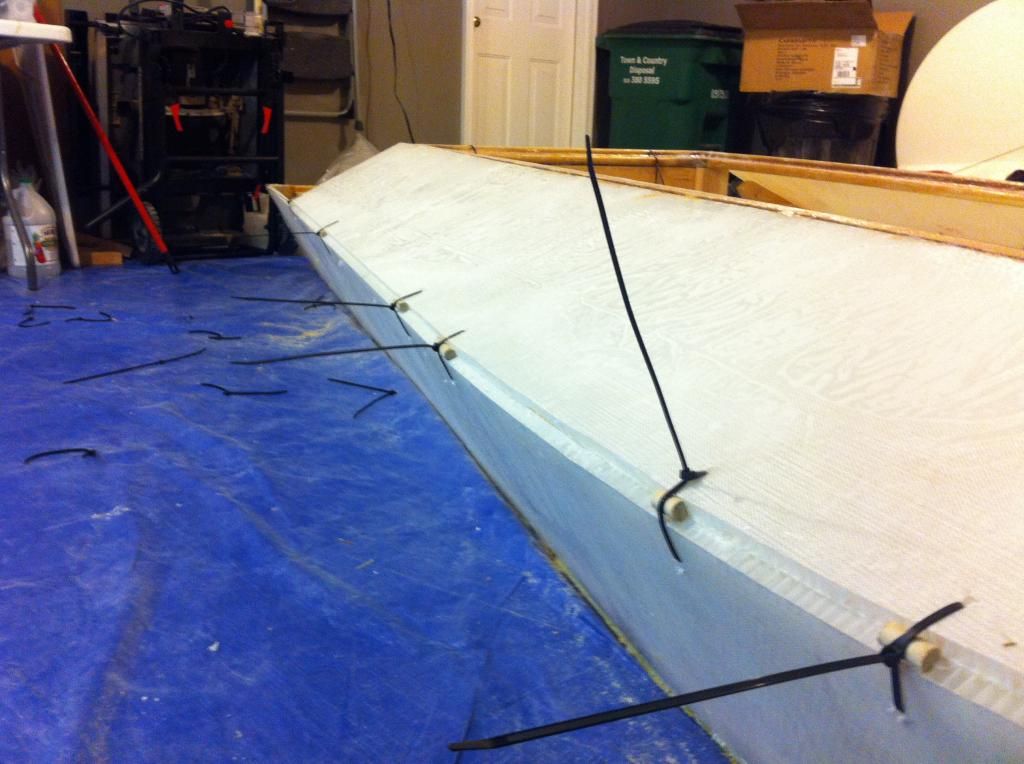 Here you can see the jump stitches on the bottom starboard seam trying to cure (it was somewhat chilly, hence the heater).
The rear deck and transom area. The bottom of the deck was glassed with kevlar as well (I had some extra) to add tension strength.
Because Plascore doesn't have a finished edge for fiberglassing, I used wood to accomplish this. Here is the nose of the bow made with cedar. (NOTE: the top edge looks wavy only because of the grain of the wood with the light...it is perfectly flat and straight)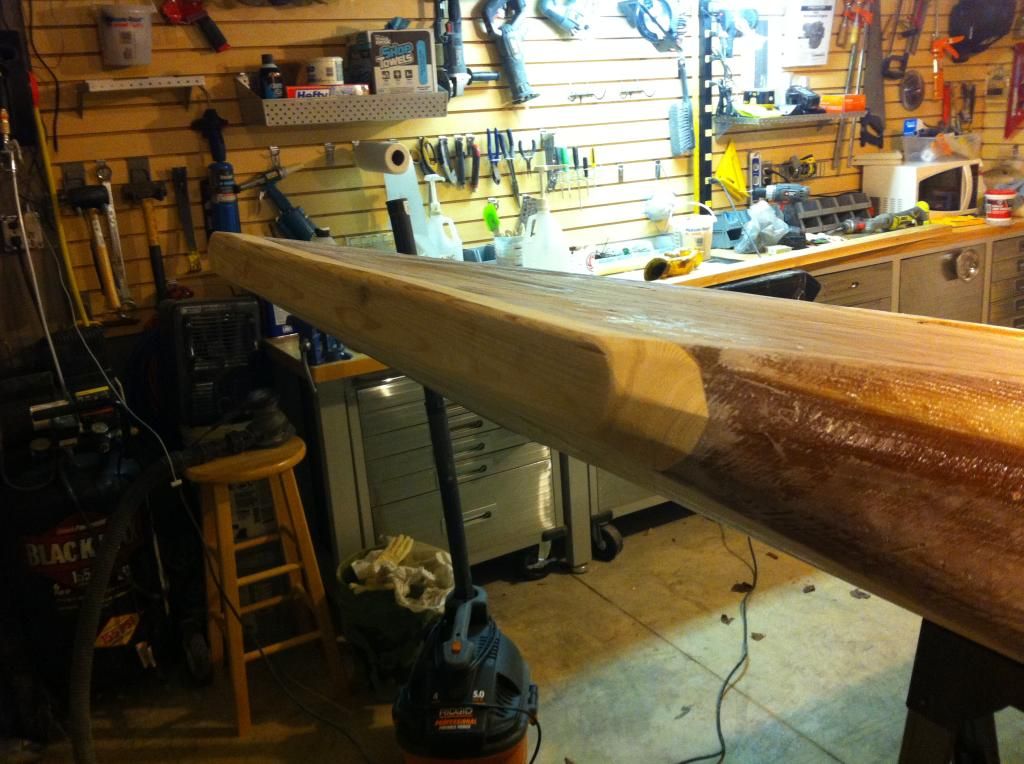 This image shows the bottom of the boat post sanding and installing the runners. The yellow is the kevlar in the layup schedule. The brown is the fairing compound used to smooth the irregularities in the hull and fill the holes from the stitches.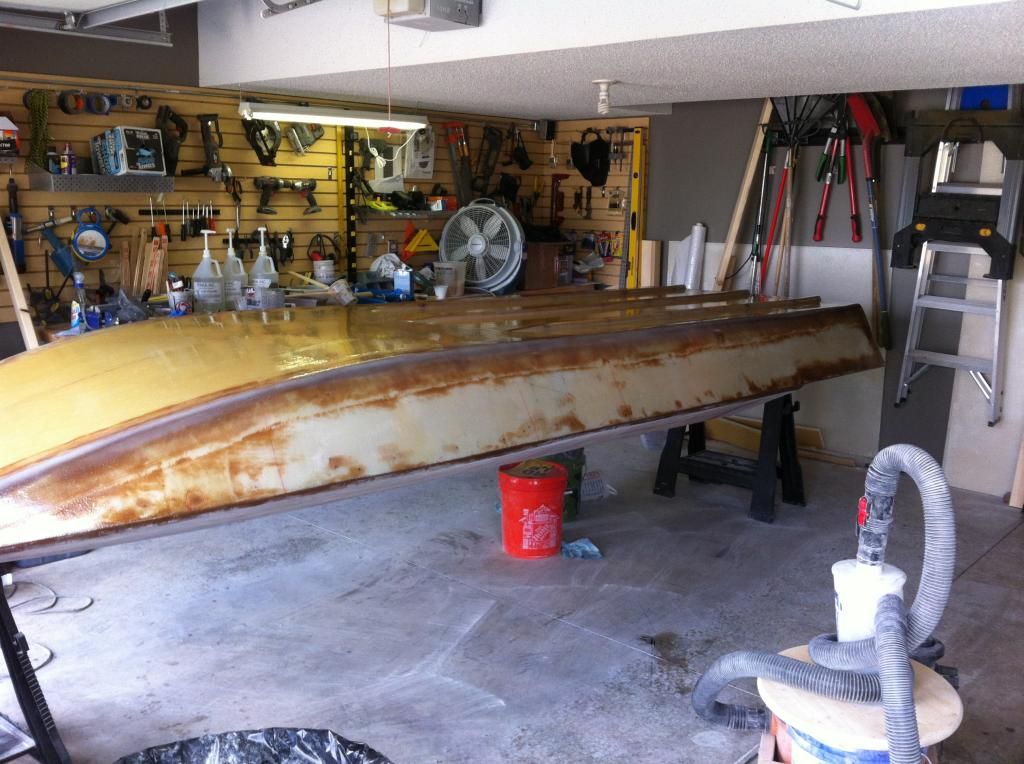 Next post...the finished product.